Egyptian army drives back Islamist fighters in Sinai
Comments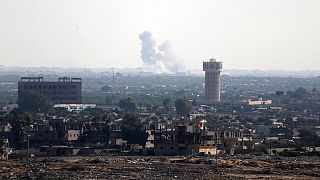 The Egyptian army says it has "the situation under control" after driving back Islamist militants in North Sinai Province.
More than 100 fighters were reportedly killed in the operation along with 17 soldiers but that figure could be higher.
The ISIL affiliate in Sinai launched several near- simultaneous raids and car bombings on military checkpoints. It was their biggest assault yet in the region.
Egypt's military responded with airstrikes by F16 jets and Apache helicopters.
The militants' assault in the peninsula was the second high profile attack in Egypt this week. On Monday a bomb killed the prosecutor -general in Cairo.
The insurgents want to topple the Cairo government and have stepped up their campaign since 2013, when then-army chief Abdel Fattah al-Sisi removed President Mohamed Mursi of the Muslim Brotherhood after mass protests against his rule.
Sisi, who regards the Brotherhood as a threat to national security , has since overseen a harsh crackdown on Islamists.