Calais migrants: France & UK promise tougher action
Comments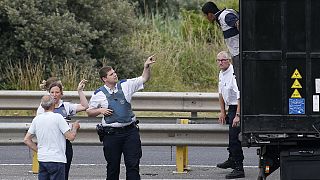 A strike by ferry workers in the French port of Calais was called off on Thursday after four days of chaos.
Access to the port was blockaded and ferries were
cancelled, leaving long queues of lorries on both sides of the English Channel.
Large numbers of migrants have attempted to board queuing freight vehicles headed for the UK as they wait for upcoming sailings.
'We'll discourage migrants' d
On Thursday, Britain's Home Secretary Theresa May travelled to Paris to urge stronger action to solve the migrant crisis.
France and Britain agreed to prevent future ferry strikes which they said only encouraged those trying to cross the English channel illegally. They also pledged to to toughen security around the port in Calais.
May told the media: "What we have agreed today is a further working with the French government to ensure we can return people from Europe into Africa so that people see that actually that journey does not lead to settlement in Europe.".
Aid agencies warn of crisis
At makeshift camps in Calais, doctors are treating those wounded while attempting to board moving lorries and trains bound for the UK, who they describe as single-minded.
"There are a lot of injuries related to the attempts to reach England and also mental trauma," said Anne Kamel from Medecins Du Mond (Doctors of the World).
"So (we say) 'come back tomorrow if you don't feel better', (they say) 'no tomorrow we will be in England' but we see them again the next day anyway."
French charities warn that the government's aid response is inadequate and have have stepped up their own efforts to feed the migrants amid concerns they are increasingly living in squalid conditions.