Ukraine stops Russian gas imports after price talks collapse
Comments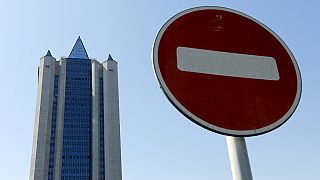 Ukraine has stopped gas imports from Russia after negotiations collapsed about how much Kyiv should pay for its gas.
Ukraine says it will not buy gas from Russia until new terms had been agreed.
Russia's Gazprom says it will not supply Ukraine with gas until it pays cash upfront.
"Gas deliveries to Ukraine in the coming months and during the winter period will depend on Ukraine's payment for gas deliveries," explained Gazprom CEO Alexei Miller. "Gazprom is not going to send gas to Ukraine at any price without payment in advance."
The EU relies on Russia for about one-third of its gas supply. Half of that is pumped through Ukraine.
The European Commission Marcos Sefcovic said a solution is possible.
"In the end, we are not that far apart. What we need is the clear political will that we want this to happen," Sefcovic said on returning to Brussels on Wednesday after the talks held in Vienna a day earlier.
"We will play the role of honest broker until the end."
Technical talks to seek a way forward will take place ahead of another round of political talks between Sefcovic and the energy ministers of Ukraine and Russia in September, the commissioner said.
His goal is to get another lasting deal rather than just extend the series of interim fixes.
The Commission's mediation last year produced a so-called "winter package." The aim is again to secure a binding deal to ensure gas flows over the peak-demand coldest months and until an international arbitration court in Stockholm rules on the pricing dispute.