Two French soldiers suspended over alleged child abuse in Africa
Comments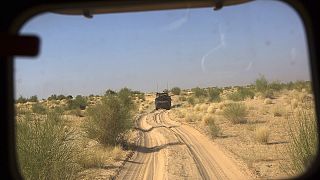 French defence chiefs have suspended two soldiers suspected of sexually-abusing children in Burkina Faso.
One of the victims was a girl around five years old, a source close to the investigation told AFP news agency.
It comes after a leaked UN report in April claimed French peacekeepers had abused children in the Central African Republic (CAF).
France's defence ministry said: "Two French soldiers on a mission in Burkina Faso are suspected to have engaged in acts of a sexual nature with two children.
"Informed of these suspicions, the defence minister immediately reported these allegations to French judicial authorities. He also suspended the two soldiers."
The alleged abuse was uncovered when the girl's father discovered images on a camera, alerting the French ambassador in Burkino Faso.
A source told AFP one soldier had filmed while another had carried out the alleged acts, but the pair had left the camera behind.
The emergence of the soldiers' suspensions is in contrast to the allegations against French peacekeepers in CAF. On that occasion French defence minister Jean-Yves Le Drian launched an internal inquiry, but did not made the allegations public. They only came to light after a whistleblower went to the press.
France is investigating 14 soldiers over the CAF allegations.
The leaked report alleged French peacekeeping troops raped starving and homeless young boys, who they were meant to be protecting at a centre for internally displaced people in Bangui, CAF.
France sent 1,600 troops to CAF in December 2013 after violence flared up.