UPDATE Egypt: Islamist militants affiliated to ISIL claim deadly Sinai attacks
Comments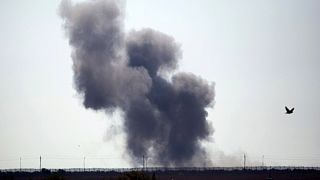 At least 70 people have been killed, many of them soldiers, after Islamic State militants launched a coordinated attack on several military checkpoints in Egypt's Sinai peninsula.
According to Security sources two explosions were heard in the town of Rafah, which borders the Gaza strip.
Egypt's air force deployed fighter jets to the area to assist the army in the ongoing fighting.
Islamic State's Egyptian affiliate, Sinai Province, claimed responsibility for the assault.
It marks the second high-profile attack this week, after the prosecutor-general was killed in a car bombing in Cairo.
The Sinai based insurgency has killed hundreds of members of the security forces since the army toppled Islamist president Mohamed Morsi in 2013 following mass protests against his rule.