Disappointment as 'Flotilla 3' mission to Gaza flops
Comments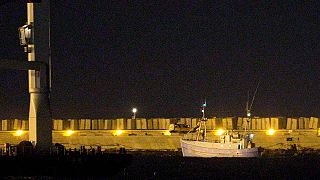 Turning back to port, the disappointment is palpable aboard one of the boats participating in the Gaza Freedom Flotilla 3. It comes after the main ship, Marianne was intercepted by the Israeli navy, cutting short the mission to break the blockade on the Palestinian enclave.
French activist Claudio Tamagnini lamented the end of the journey. He told euronews "We are disappointed because our boats couldn't get near to Gaza, we were only supposed to escort Marianne towards its sorry end."
For others on the boat, the strategy was not so clear.
Martin Lejeune, an independent journalist from Germany, said: "I was told that I am a journalist that is going to take part in a mission that is going to break the siege of Gaza. But (in) at the end we were just an escort boat and we even failed to escort Marianne because we did not reach Marianne before it was captured. "
Reflecting on the success or failure of the mission Moroccan MP Elmokrie Elidrissi Abouzaid remained more optimistic. "The real failure would be never to try and break and blockade on Gaza. The attempt to break the blockade is in itself a success," he said.
The flotilla was just the latest in a series of Mediterranean voyages in protest against Israel's nine-year blockade of Gaza. Speaking from the boat in international waters, our correspondent Aissa Boukanoun added:
"The freedom Flotilla 3,did not succeed in breaking the blockade on Gaza. Participants on this boat said that they were not informed that they were only expected to escort Marianne. They feel deceived, because they left Marianne alone in its attempt to break the siege. Organisers say they are preparing for a Flotilla 4, in the autumn."