Western Europe sizzles in first heatwave of summer, with no end in sight for some places
Comments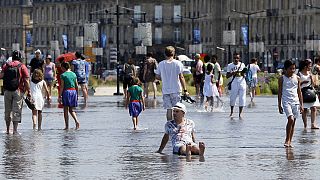 Western Europe is sweltering in the first big heatwave of the summer, with several days of +30 degree temperatures or more in many places, while in some areas the end cannot be predicted.
Temperatures of +40 have been the norm in Spain for days, but Portugal, France, Belgium, Britain, the Netherlands, Switzerland and northern Italy are also in for a scorcher.
Denmark and the whole of Scandinavia are also going to feel the heat, although a little less so.
For Rome it is nothing exceptional, even if at this time of year it is normally several degrees cooler. Italian ice cream sellers are rubbing their hands together.
However this flaming June is proving too hot to handle even for the Spanish, where temperatures have hit the over 40s this week, making electicity consumption spike as air conditioners work overtime.
"It's very bad here in Seville, in this heat and without air conditioning you cannot sleep. It's impossible," said one woman.
In 2003 a similar heatwave, although later in the year, claimed thousands of French lives especially among the old. Since then action plans have been developed after a public outcry.
"You need to prepare yourself for it a little bit and hydrate well, go out a little later in the evening or do your activities early in the morning & 
avoid the hot hours of the afternoon," said one man.
People are fleeing to whatever water they can find; the sea, lakes, rivers, or public fountains. The heatwave is expected to last well into next week at the earliest.