Mixed reactions as Iran nuclear talks extended
Comments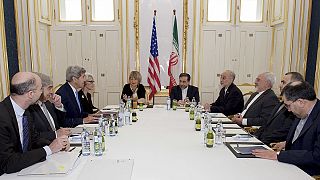 The suspicions of many were proved correct at the Iran nuclear talks in Vienna.
According to the US State Department, Tehran and the world powers have extended the deadline for an accord on Iran's nuclear programme by a week, to July 7, 2015.
Diplomats say major issues still have to be resolved; the main differences being
over monitoring and the pace and timing of sanctions relief.
But Russia's Foreign Minister Sergei Lavrov appeared optimistic.
"Talks are in progress and moving in the right direction," he said. "Some questions remain but they are mainly procedural, rather than technical."
US President Barack Obama was less positive. He admitted that Iranian negotiators have talked about backing out of an earlier framework agreement.
"There's still some hard negotiations to take place," he said. "But, ultimately, this is going to be up to the Iranians to determine whether or not they meet the requirements that the international community has set forth, to be able to fairly and accurately and consistently assess whether or not they have foreclosed the possibility of obtaining a nuclear weapon."
The international community is pushing for inspectors to be given access to Iranian facilities, to ensure they lack the capacity to build a nuclear weapon.
Iran says its programme is for energy only.
Obama said a failure by Tehran to abide by the initial accord would prove problematic. Iran's president Hassan Rohani has said his country will resume suspended atomic work if the West fails to keep its promises.