Greek tourism looks for early deal to shift clouds from the sunshine
Comments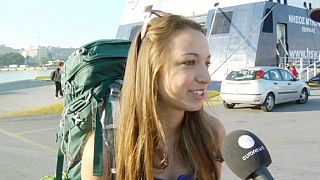 Tourism accounts for a whopping 20% of Greek GDP and many in the industry are worried at what the effects of the debt meltdown will have on trade.
Anything that makes Greece and its jewelled islands less attractive could have a devastating effect on an already crippled economy.
"Everyone was super friendly, even though we are Germans! So, that was nice, everyone was welcoming, we hope that the ferries will go back as well, that is our only worry," said one young backpacker boarding a ferry.
"If I cannot withdraw money, that might affect my holidays of course, if there is a strike it affects my holidays as well, otherwise, if there is not going to be anything like in Paris, like, you know, a revolt, it is fine for me," said one young man, perhaps mindful of recent problems taking Uber taxis in the French capital.
It seems that for the moment few are being discouraged, even if the USA has warned travellers about possible violent demonstrations.
Last year 24 million people visited, a record.
"In June, with all this intense insecurity we saw a fall in reservations. The situation is still under control. It is true that in the past few days new reservations have fallen, there are no cancellations, just a few," said the President of the Greek Tourism Confederation Andreas Andreadis.
With one in four jobs dependent on tourism it is one of the few expanding healthy sectors, but can be dragged down by strikes, shops running out of goods, or banking machines being emptied. Tourism leaders want a deal as soon as possible.
"Tourism is a pillar of the Greek economy and vital to the country's efforts to exit the recession. With tourist inflows at their peak at the moment, businesses say the country should go back to normal as soon as possible, so that there will be no harmful television pictures abroad," reports euronews' Symela Touchtidou.