Channel tunnel closed again as ferry workers protest on rails
Comments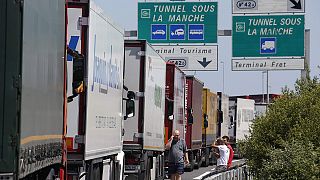 Ferry workers in France faced with losing their jobs have again protested in Calais, cutting sea and rail links to Britain.
Eurotunnel was forced to close as strikers burned tyres on train tracks and police made several arrests, and long queues of stranded lorries unable to board ferries or flatbed rail transports
started to tail back on port service roads. It re-opened at the end of Tuesday afternoon.
Passengers were stranded, too, with no-one on hand at stations
to kepe them informed or deal with their complaints. Families were stuck in cars in the baking sun of a heatwave.
"The office here is empty, there is no-one in the office to tell you what to do, what to do with your ticket, how to get reimbursements on your ticket. They did say at passport control that MyFerryLink would give you an alternative ticket for the Channel Tunnel, on the train, under the tunnel, but there is no one in the office to do that," said one British traveller.
This is the second strike in less than a week to close the channel crossings. On Monday a court prevented the workers' co-operative that currently runs MyFerryLink from extending its contract with Eurotunnel. A Danish company, DFDS, is set to take over operations on July 2, but intends to sack nearly two-thirds of the workforce.