Heading for Hawaii, Solar Impulse II takes off for the most risky leg of its round the world trip
Comments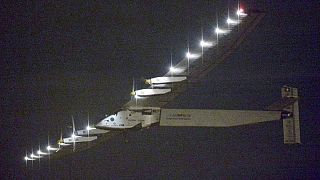 Solar Impulse II gets clearance for takeoff after a three week wait, and sets off to continue its historic journey.
The solar powered aircraft took off from Nagoya, Japan to Hawaii on the eighth leg of its round the world voyage.
Bad weather had delayed departure for the longest and most risky stage of the mission.
.@solarimpulse is flying on 27,000 feet with a ground speed of about 80 knots http://t.co/f5c5mL9L3F#futureiscleanpic.twitter.com/GqIVBWJr6M

— Flightradar24 (@flightradar24) June 29, 2015
Swiss businessman and pilot André Borschberg is aiming to fly for 5 days non-stop – he plans to practise polyphasic sleep meaning splitting up rest time into 20 minute power naps. The cockpit seat is adjustable to make it into either a bed or a yoga mat to practise poses that will improve blood circulation.
17.05 UTC: the man of the moment, @andreborschberg, arriving on the runway, ready for the flight of his life! pic.twitter.com/Vh7Rdvwm96

— SOLAR IMPULSE (@solarimpulse) June 29, 2015
The plane which took off from Abu Dhabi in March is powered by 17,000 solar cells, and was expected to clock 25 flight days broken up into 12 legs.
The project aims to change people's ideas about what is possible with alternative energy sources.
You can watch its progress LIVE.