Gaza aid flotilla intercepted by Israeli Navy
Comments
By
Euronews
with
Luis Carballo, Gisha, Reuters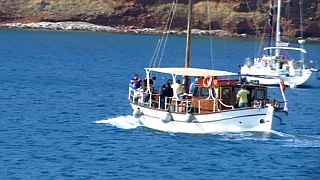 The Israeli Navy has intercepted a ship leading a four-vessel aid flotilla en route to Gaza and diverted it to Ashdod Port.
One of the reasons that has been articulated by the Israeli authorities is the desire to put pressure on the population in Gaza and on Hamas, with the hope this would somehow bring about a less-extreme regime. That it would bring about a change in government in Gaza. Obviously, that hasn't worked.
Pro-Palestinian activists were manning the ship in a mission aimed at protesting against a long-standing Israeli maritime blockade of Hamas-run Gaza.
According to a statement from the Israeli military, action to divert the flotilla was taken in international waters, to prevent the latest in a series of "intended" breaches of the cordon.
Prime Minister Benjamin Netanyahu added:
"They chose to come and protest in the State of Israel, the only real democratic state in the Middle East which is fighting against terrorists who deliberately fire at Israeli citizens and deliberately hide behind Palestinian civilians. Therefore, this flotilla is a demonstration of hypocrisy."
A euronews source on board says three other vessels turned back. The pro-Palestinian International Solidarity Movement claims around 50 activists from 17 countries were on board the converted fishing trawler leading the flotilla.
Eitan Diamond is the Executive Director of Israel-based Gisha – Legal Center for Freedom of Movement.
According to its website, Gisha is an Israeli not-for-profit organisation, which aims to "protect the freedom of movement of Palestinians, especially Gaza residents."
"It is very difficult to understand this policy purely on the basis of security grounds," Diamond said. "And one of the reasons that has been articulated by the Israeli authorities is the desire to put pressure on the population in Gaza and on the Hamas in control of Gaza, with the hope this would somehow bring about a less-extreme regime. That it would bring about a change in government in Gaza. Obviously, that hasn't worked."
Israel says it intercepted the flotilla after "exhausting all diplomatic channels." However questions remain about the course of action taken by the Israeli Navy, as our correspondent Luis Carballo explains:
"The journey taken by the new flotilla has been similar to previous stops here in the Israeli port of Ashdod. Except this time, it occurred without violence. But the criticism is always the same: why does Israel insist on maintaining a blockade that harms the people of Gaza and not Hamas?"