Over 470 injured in Taiwan water park fire
Comments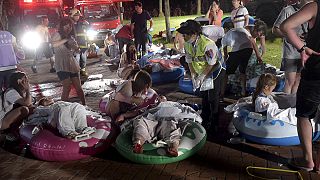 More than 470 people are now reported injured after a fire broke out during a party at a water park in Taiwan.
This video captures the moment an unknown flammable powder exploded over a stage area at Formosa Fun Coast in New Taipei City. Around one thousand people were in the crowd at the time.
The injured were rushed to hospitals in various cities in Taiwan. More than 140 of them were said to have suffered serious injuries. At least had burns over 80 percent of their bodies.
The fire happened as the park hosted what is described as a Color Play Asia party. It is an event which sees revellers get covered in coloured powder.
A loudspeaker short out was blamed for the cause of the fire, although it is still being fully investigated.