Greece: PM Tsipras gets go ahead to hold controversial bailout referendum
Comments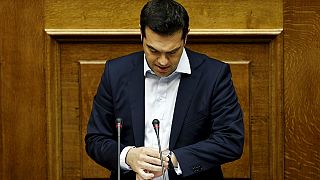 Greece's parliament has authorised a controversial referendum on the latest terms offered by creditors to unlock billions of euros in bailout funds.
It is set to take place on the 5th of July.
Prime Minister Alexis Tsipras, who has been calling for the vote, wants Greeks to reject the proposed financial deal, which he is described as "insulting."
Pro-European Greek opposition parties have united in condemning the decision to call a referendum.
There is rising speculation that Tsipras' left-wing government may have to resign, if voters back the bailout offer. But that offer may no longer be on the table.
Greece's European partners have shut the door on extending a credit lifeline to Athens, leaving the country facing a default that could push it out of the euro and cause ripple effects across the European economy and beyond.
Finance ministers of the other 18 countries sharing the euro met for the first time without Greece after flatly rejecting its pleas to extend an expiring bailout.
The left-wing Syriza government had asked for an extension until after the 5 July referendum.
Speaking from Athens, euronews correspondent Stamatis Giannisis said: "After a fierce fight with the opposition, the radical left led government coalition won the day in parliament and paved the way for next Sunday's referendum, which is going to determine Greece's future in the euro and possibly the European Union.
"It's the Greek voters in the end who are going to have the final word in seven days from now."