Eurogroup says 'no deal' to Greek request for bailout extension
Comments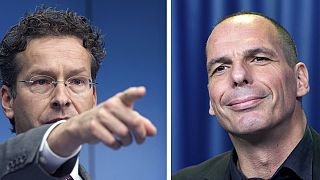 The Eurogroup has announced that Greece's financial aid programme will expire on Tuesday night.
Jeroen Dijsselbloem, the head of the 19-member group of finance ministers, has said a Greek request to extend its bailout programme beyond the June 30th deadline has been rejected.
But Athens remains optimistic a new deal can be struck.
Finance Minister Yanis Varoufakis told a press conference:
"We should be able to reconvene before the deadline, so that there is an agreement by Tuesday. And, in that case, the position of the Greek government regarding the referendum is to invite the Greek people to approve the creditors' proposal, if it is improved upon."
French Finance Minister Michel Sapin says his country is ready to restart discussions with Greece at anytime.
However, Dijsselbloem seemed less optimistic.
"The Greek government has broken off the process, has rejected the proposals and is now putting them – which is a more unfair way – to the Greek people in a referendum with negative advice," he told a press conference. "Given that situation, I think we must conclude that, however regretful, that the programme will expire on Tuesday night."
Greece is seeking to secure more favourable proposals, which the government then intends to put to a referendum on July 5.
Dijsselbloem, however, says creditors have already offered the "maximum" flexibility possible.
Euronews' Efi Koutsokosta reported on the split in the Eurogroup:
"The most crucial Eurogroup meeting for Greece took place under fractured conditions," she said. Dijsselbloem asked Varoufakis not to attend an informal meeting with the rest of the finance ministers to discuss the measures needed after Tuesday – the date on which EU financial support is expected to stop."