Greece: ECB decides to maintain current emergency funding
Comments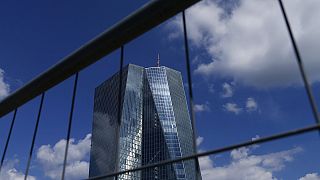 The European Central Bank is to maintain emergency funding for Greek banks at the levels agreed on Friday.
Experts say in real terms this represents a cut in funding – as Greece needs more and more money each day to stay afloat.
Watchers say the "sticking plaster" measure could lead to capital controls being imposed, but nonetheless leaves the door open for further talks.
Greek banks depend on the ECB funding. Cutting or stopping it could lead to default and may push Greece out of the euro.
One billion euros were withdrawn from cash machines on Saturday alone.
On Saturday, Eurogroup leaders refused to extend Greece's 1.6 billion euro Tuesday debt repayment deadline after Prime Minister Alexis Tsipras called a referendum for July the 5th.
The Greek government is meeting in Athens to discuss the way forward.