'Dilemmas, anxiety and political polarisation': Athens discusses Grexit
Comments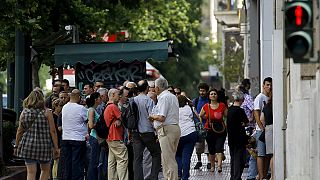 Greece awoke on Sunday to the news parliament had given the go-ahead to a referendum on austerity measures.
In Athens, local residents admitted to feeling confused and anxious about the vote.
Some ATMs in the capital were empty and concern remains about the country's future in the euro zone.
In addition to the payment to its international lenders, Greece also needs to pay 2.2 billion euros in public sector salaries. Default seems possible, putting the country's financial future into even deeper uncertainty.
"They're putting the ball back in our court," one man told euronews. "How am I supposed to vote? 'Yes' means very strict measures, which will lead us to poverty and misery. 'No' is uncertain. Nobody knows what will happen. Are we going back to our former currency, the drachma? Are we going to default? And what happens next?"
An Athens taxi driver added:
"Now we're on the brink of disaster. I support the option to return to the drachma. But I don't know the possible consequences and how long they would last."
"The referendum would be fine if the prime minister had in mind a plan B to leave the euro zone," another local man said. Otherwise, it doesn't matter if we vote 'yes' or 'no'."
At the start of what is likely to be a momentous week for Greece, only the tourists appeared unaffected, our correspondent observed.
Kostas Tsellos sent this report from Athens.
"Dilemmas, anxiety about the future and political polarisation. In extreme economic conditions, the Greek people were suddenly asked to decide their future. Even the most disinterested people realise the next few days will be historic."