Greek debt crisis: Tsipras calls for referendum on bailout deal offer
Comments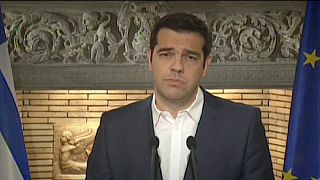 Greek Prime Minister Alexis Tsipras is calling for a referendum on 5 July on whether the country should accept or reject a bailout agreement offered by creditors.
Athens has the option of receiving 15.5 billion euros until November. The deal includes 1.8 billion by Tuesday to avoid defaulting on an IMF loan. But that is only if Greece can reach a deal this weekend.
"I will ask European leaders to grant an extension of a few days to the current bailout programme," said Tsipras.
"This, so that Greek voters can can choose freely without blackmail and pressure – as the Greek constitution imposes and as the values of the European Union enforce."
Tsipras announced the referendum plan hours after flying back from Brussels, where European and IMF creditors offered Greece the deal.
Athens says it is inadequate and amounts to a possible humiliation of an entire people.
Greek opposition leader Antonis Samaras is critical of the referendum plan, saying it is effectively setting the country on a collision course with Europe.
As it stands, if Greece does not clinch an agreement at the weekend to unlock funds, it is set to default on its IMF repayment. That would set all sorts of alarm bells ringing – and raise doubts about Athens' future in the eurozone.