Greek bailout referendum marks 'big moment for democracy'
Comments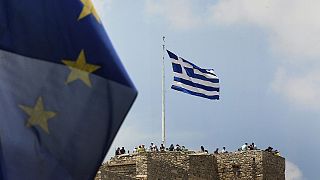 A referendum call from Greek Prime Minister Alexis Tsipras marks the most dramatic twist yet in long-running negotiations between Greece and its lenders.
The plan to hold a 5 July vote on a bailout agreement offered by creditors is being put before parliament on Saturday.
"It is now for the Greek people to talk and to decide and so this is also a big moment for the democracy in Europe. The people in Europe must have a say on the economic policies," said George Katrougalos, Administrative Reforms Minister.
Health Minister Panagiotis Kouroublis added: "We remain within the euro, we remain within Europe. We are claiming a deal that will give our country perspective.
"If it is something different that we want, it is for the Greek people to decide. These measures do not lead us anywhere but catastrophe."
Speaking from Athens, euronews reporter Stamatis Giannisis explained: "It was back in 1974 when Greeks last took part in a referendum, that was to decide between a monarchy and a republic.
"This time, the question is very different. But equally crucial, as the outcome will determine the path of the country within the eurozone and possibly within the European Union."