Rwanda's spy chief bailed after being arrested in London
Comments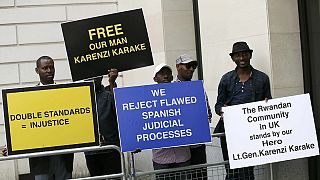 Rwanda's intelligence chief is set for a full extradition hearing in London in October after being arrested at Heathrow airport last weekend.
Karenzi Karake is accused by Spain of engaging in reprisal killings following the country's 1994 genocide.
Karake – whose legal team included Cherie Blair, the wife of former British Prime Minister Tony Blair – was granted bail at one million pounds (or one point three five million euros) on Thursday.
His supporters, including Rwanda's attorney general Johnston Busingye, have vowed to fight the extradition request.
"Well I am so happy justice is done. I am happy that probably this is the beginning of a long journey to expose these Spanish indictments, because they have been illegal, unlawful, illegitimate," said Busingye
Karake, the director general of Rwanda's National Intelligence and Security Services, flew to London on Saturday to meet the head of MI6.
He was among 40 leaders indicted by Spain in 2008 over alleged revenge murders of hundreds of thousands of civilians including some Spanish citizens.
Rwanda president slams Western 'arrogance' after spy chief arrest http://t.co/b8QLF7cgBxpic.twitter.com/WLkTjLeUT7

—

FRANCE

24 (@FRANCE24) June 25, 2015