Decapitation and explosion in French Islamic terror attack
Comments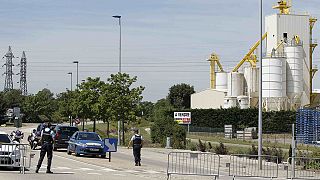 France has again been struck by an apparent terrorist attack, this time near the city of Lyon.
We must keep our dignity, we must keep our tolerance.
The shocking incident, currently under investigation by police, the French Defence Ministry and forensic scientists, saw an explosion at a gas company. Several people were injured and a local business entrepreneur was horrifically decapitated.
At 10am French time a van, said to have explosives inside, was driven into the gates of Air Products at Saint-Quentin-Fallavier, a subsidiary of a US company. Immediately following this a loud blast was heard and forty people were evacuated from the site. Inside the gates of the company a head was found attached to a fence with, reportedly, Arabic writing on it. The body was close by, next to a flag bearing Arabic inscriptions.
The accused attacker has been named as Yassin Salhi, a delivery driver and father of three in his '30s, who allegedly claimed at the scene he was a "member of the Islamic State". Salhi had been under French surveillance between 2006 and 2008, but after this time was not deemed enough of a threat to be kept under investigation. One report says the beheaded man was his employer.
His wife, contacted by French TV, expressed her bewilderment. "He left home for work at seven, just as normal. How could he do this? He is fasting! We are a normal family," she said.
Police currently have her in for questioning and are investigating others reportedly involved.
Said French President Francois Holland of the attack, "The intention was obvious, they wanted to trigger an explosion…At the moment we're feeling emotion but that cannot be the only response, we have to take action."
French Prime Minister Manuel Valls cut short his South American trip to return to Paris after today's attack, while France's Interior Minister Bernard Cazeneuve stressed that "We must keep our dignity, we must keep our tolerance," and that the Republic would not be allowed to weaken in the face of terror.
Today's coverage as it unfolded: