French say deadly attack on gas plant near Lyon is terrorist attack
Comments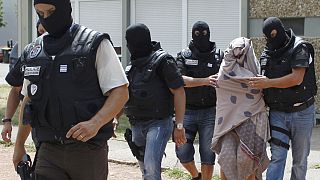 The decapitated body of a man was found at the entrance to a gas and chemical storage facility near the French city of Lyon on Friday.
It followed a high-speed ramming of the entrance by at least one man who then used his car as a weapon to crash into gas tanks, detonating an explosion. the driver survived the crash and has been arrested. He was named as 35 year-old Yassin Sahli, who was briefly on French intelligence radar for contacts with Salafist groups in 2006, but had no criminal record. A flag bearing islamist inscriptions was found at the scene.
The French Interior Minister Bernard Cazeneuve said there were suspicions he had been radicalised in 2006, but by 2008 those fears had abated. The man was a resident of St. Priest in nearby Lyon.
The victim has yet to be identified. A local paper said his inscription-covered head was found attached to a fence. It is thought he may have been a local transporter on-site for a delivery.
One report said Sahli told police he was a member of Islamic State.