Flotilla prepares to set off on attempt to break Israel's blockade of Gaza
Comments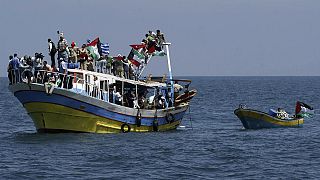 Activists are preparing to set sail in a flotilla of boats, to try and break Israel's blockade of Gaza.
They are due to start their journey from a Greek island on Thursday, weather permitting. Israel is trying to prevent the flotilla from sailing.
A surgeon from Greece is among those taking part.
"At present people in need, who are in distress, are the Palestinians. And so we must help them," said the participant.
"We must express our international solidarity with the Palestinians, this does not mean that we are enemies of Israel."
Basel Ghattas, an MP with the Joint Arab List in the Israeli Knesset, also plans to take part in the flotilla. He is being stripped of his parliamentary immunity from prosecution as a result.
Former Tunisian President Moncef Marzouki is planning to join the flotilla too.
"Actions like giving permission to the flotilla to dock in Gaza (by Israel) would open the door to a positive process that everyone wants," said Marzouki.
"What we want is peace, a right and durable peace."
In 2010, a similar mission ended in tragedy, when ten activists were killed after a botched Israeli commando raid.
Israel is adamant that its blockade is necessary for its security.