Baku European Games: Day 13 Highlights
Comments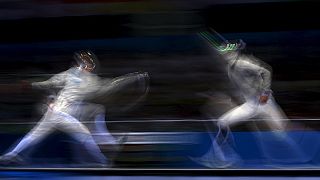 Italy's Alessio Foconi won Italy's second gold medal in fencing in the men's foil individual final by defeating Russia's Timur Arslanov on the thirteenth day of competition at the Baku European Games.
Foconi opened the scoring in round one and was eager to establish the lead as he counterattacked aggressively to be 4-1 up within the first two minutes. Arslanov recovered well, however, and by the end of the first round, had managed to draw the scores at 9-9 with 30 seconds left on the clock and then finally at 11-11 thanks to a series of successful repostes.
The second round continued to be closely contested and the many simultaneous attacks prolonged the even score until Foconi broke the deadlock at the two minutes 30 seconds mark to hit four consecutive points which guaranteed him victory, Arslanov's parrys not enough to outmaneuver the Italian.
"I wanted to win this gold medal so badly and that was on my mind throughout the whole day," said Foconi. "To stand at the top of the podium and listen to the Italian national anthem is a great honour. It was very emotional and a leap for me in my career."
"This is just a departure point for Rio (for the 2016 Olympic Games). I need to win more competitions in order to be selected for the team.
"I rate this very highly, because this is my first gold medal at a major international competition," he added.
Arslanov was clearly uncomfortable at the pace and the vigour with which Foconi dictated the bout and on two separate occasions halted proceedings to change swords. But his efforts did not prevent Foconi from eventually winning 15-11.
"Obviously I wanted to win, as always you want the top prize, but it didn't happen. Overall I performed well today. Silver is also a medal," he said.
"This medal is my number one or two compared to my other medals.
"I was lacking tactically. I was holding my distance too much. I should have pressed and I gave way to his weapon, what you absolutely cannot do with an Italian."
The bronze medals were claimed by France's Jean-Paul Tony Helissey and Italy's Francesco Ingargiola.
Adams boxes into history
Elsewhere, Great Britain's Nicola Adams lived up to her billing as the pre-tournament favourite by taking gold in the women's flyweight 48-51 kilogram final over Poland's Sandra Drabik.
The Olympic and Commonwealth champion was first to start throwing the punches and cleanly won the final against Drabik in which she controlled the pace of the bout while at the same time landing easy jabs and crossovers on her Polish rival's head and torso.
Adams did not get an unanimous verdict from the judges, however, and only won the final based on a split decision, although her efforts were good enough to take the title.
"I feel absolutely over the moon. I am absolutely happy right now. I would like to say thank you to everybody – to the people in GB boxing and my personal coach, my friends and my family, everyone that helped me to get here," Adams told reporters.
"After what happened (her shoulder injury), it makes this win even more special for me. I had a bit of a rocky start, but I came good in the end. I couldn't have done that without everyone behind me.
"It feels so good to bring yet another piece of history home to Great Britain. I'm so full of energy right now. I trained hard for the European Games, and I showed everybody what it's all about."
The bronze medals went to Turkey's Elif Coskun and Russia's Saiana Sagataeva.