Uber presses traditional taxis hard
Comments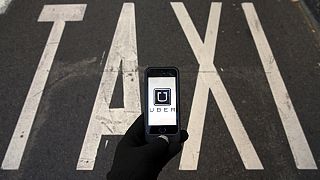 Uber is a service linking customers with private tourism vehicles (VTCs or limousines) driven by professional chauffeur, using a smartphone app. On reaching destination, payment through Uber is billed to the customer's credit card.
Uber was created in San Francisco by entrepreneurs Travis Kalanick and Garrett Camp in 2009. They launched the app the following year. Today Uber is valued at some 36 billion euros. You'll see it say online: "Uber is not a transportation provider. Flat rates apply to direct trips between specified locations."
The drivers working with Uber in 250 cities in 57 countries are not its employees. They are driving their own cars, and have been infuriating French taxi owners since last summer. But as the French expression goes, some say: "C'est la guerre," — "That's life."
Uber UK, Ireland & Nordics Regional General Manager Jo Bertram said: "Essentially, we are disrupting an industry that hasn't been disrupted in many years — decades even — in many markets. Often, that can be a bit uncomfortable for the incumbents. However, we believe the competition is good. It helps to bring better quality for consumers and more options and choices for drivers and consumers alike."
'Unfair competition!' cry taxi drivers in France, who need 250 hours of costly regulation training to get their official permit. Uber VTC drivers undercut them. With freelancers charging even lower fares, there is the more informal service UberPOP. The government cracked down last year, but the company's lawyers are fighting that, and it is paying freelancers' fines. Italian, German, Dutch and Spanish courts have banned the service.
A Madrid taxi driver protested: "More than 100,000 families depend on the taxi business in Spain. If we didn't pay our taxes, the treasury would lose 180 million euros every month!"
German unions have been fighting Uber in the courts, and in March a national ban was slapped on UberPOP.
Chairman of the Berlin Taxi Union Richard Leipold said: "The moment you use UberPOP, there is a danger, not only for the taxi trade — we can't hold out — but a danger for everyone using it, because they're not insured. You can't be certain that a healthy and tested driver is behind the wheel and has insurance."
In December, an accusation of rape against a driver working with Uber in Delhi led the authorities to reject a license application, in the wake of an earlier operating ban, which had a negligible effect.