Showdown over Uber: French taxi drivers shut down roads around Paris
Comments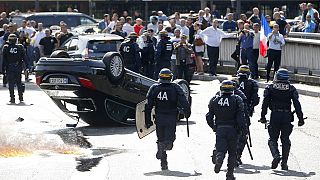 Roads around Paris became car parks as French taxi drivers blockaded routes to the airport and the main ring road around the city in a protest against Uber.
Riot police intervened as the protest turned violent, with reports cab drivers were seeking out and harassing chauffers of the ride-sharing service.
France's interior minister called for a nationwide clampdown on the UberPOP service, siding with taxi drivers who argue the service represented unfair competition.
In photos: Thousands of cab drivers clog France's roads to protest Uber http://t.co/KzelkOx0TEpic.twitter.com/RwDCbPJQCJ

— The Globe and Mail (@globeandmail) June 25, 2015
The protests forced those arriving at Orly and Charles De Gaulle airports to walk between terminals to avoid the travel chaos, though some had little sympathy for the strike.
American rock singer Courtney Love was also caught up in the fracas.
they've ambushed our car and are holding our driver hostage. they're beating the cars with metal bats. this is France?? I'm safer in Baghdad

— Courtney Love Cobain (@Courtney) June 25, 2015
Others had to walk along the motorway to make their flights.
The standoff centres on a new French law which requires all chauffeurs to carry special licenses and insurance. Uber is awaiting a ruling on from the constitutional court on the legality of its services.
The fight has turned increasingly violent with reports over the weekend (23 June) that a client of Uber in Lyon was beaten up by taxi drivers.
Careful using Uber in France - you might get beaten up by a French taxi driver http://t.co/87TNgbZzdmpic.twitter.com/Gmiy5IryZW

— Ben Wagner (@benwagne_r) June 25, 2015