Uber 'killing our jobs,' say Brussels taxi drivers
Comments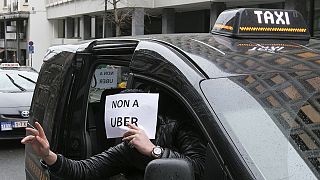 Taxi drivers in Brussels have protested against ride-sharing smartphone application Uber.
The service allows private hire cars to be ordered at the touch of a button.
Unlike taxis, Uber drivers don't need to buy an expensive licence.
A Brussels court ruled last year it is illegal.
"It is killing all the jobs of the legal taxis who work legally and pay their taxes and so on – while the others have a complete other way of working, don't pay their taxes and can offer less expensive services," said one taxi driver.
"One group of passengers called an Uber and there was a problem on the road. The guy had an accident," said another driver. "The car came back with injured people inside. Who will now compensate those people who were injured? Because their insurance won't. I pay 3500 euros for an insurance policy to cover all my passengers."
Uber says it complies with "all applicable tax laws."
Local officials say new legislation is being prepared to allow the company to operate legally.