Protests spread across the US over rebel flag
Comments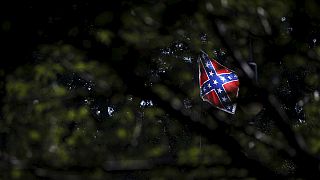 Protests are spreading across the US for the withdrawal of the Confederate battle Flag.
In South Carolina many want it removed from the state house following last week's massacre of black worshipers by a suspect who regarded it as an emblem of white supremacy,
At the state senate after the governor called on lawmakers to take the flag down, a bill is now being debated over its future.
While supporters see the rebel flag as a cultural memorial, manufacturers have taken things into their own hands.
Walmart – the US's biggest retail store, Amazon and Ebay are just some who have announced they will stop selling related products while a prominent flag maker has agreed to stop production.