Irish 'balcony collapse' victims remembered at funerals
Comments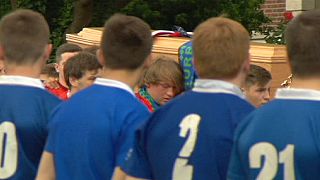 Funerals for two more of the Irish students killed in last week's Berkeley balcony collapse have taken place in Dublin.
21-year-old's Niccolai Schuster and Olivia Burke were laid to rest following two separate ceremonies.
Six people were killed when the balcony they were standing on gave way at a University of California building last Tuesday.
Several others were seriously injured in the accident.