Goals replace guns and grenades in Libyan football tournament for peace
Comments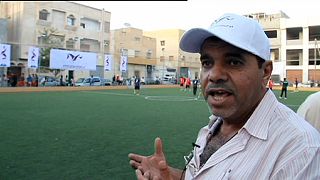 ''On the pitch for peace'' is a slogan given to a charity-organised football tournament aimed at giving Libyans a break from the relentless conflict that has blighted the country in recent years.
The cheers of football fans replace the echoes of gunfire in Tripoli where amateurs and former professionals gathered for the eight-a-side event.
One spectator said: "We hope that this atmosphere will come back again, we've missed it for the past two or three years, and many people left. The place used to be full of activities, sports, love and peace."
It is the second of three football-for-peace tournaments organised by a local charity H20 with US and EU funding.
The charity hopes these tournaments during Ramadan will encourage unity among fans and players alike in a country where warring militias continue battling for influence.