France demands answers despite US assurances over spying
Comments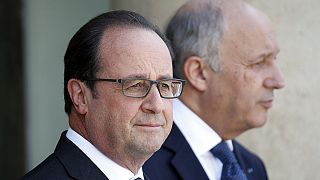 The Elysee Palace says President Obama has vowed to end what he called unacceptable spying practices on allied countries.
Earlier France's President Hollande held emergency security meetings over revelations on the WikiLeaks website that the US National Security Agency had bugged the phones of three French presidents.
The US ambassador Jane Hartley was summoned to the French foreign ministry to explain, amid French anger.
"As much as we understand the need for phone taps with regard to terrorists, that has nothing to do with the tapping of leaders who are allies and friends. I've asked the ambassador to give us some rapid answers," French Foreign Minister Laurent Fabius said as he briefed reporters.
RELEASE: Espionnage Élysée – how the NSA bugged Hollande, Sarkozy and Chirac https://t.co/uflJlxeJdOpic.twitter.com/k8hDycaxNV

— WikiLeaks (@wikileaks) junio 23, 2015
In parliament, Prime Minister Manuel Valls called on the US to do everything in its power to repair the damage done by the news, saying "while we share common values, the respect of sovereignty is a fundamental basis to establish, maintain and cultivate relations of trust for the safety of our respective citizens. Therefore these practices constitute a very serious violation of the spirit of trust which should guide us."
The NSA has previously been accused of spying on the German Chancellor Angela Merkel.
French officials are due to travel to Washington but behind the scenes intelligence cooperation is said to be good.
The WikiLeaks revelations detailed how Washington had eavesdropped on the phone conversations of French presidents Chirac, Sarkozy and Hollande.
They have provoked media outrage in France but there are suggestions French officials were already aware of the US spying.
However, the French government faces accusations of hypocrisy as it is due to vote through extensive surveillance laws which would give intelligence agencies sweeping powers to snoop on its own population.