Partick Thistle FC's new mascot described as "terrifying"
Comments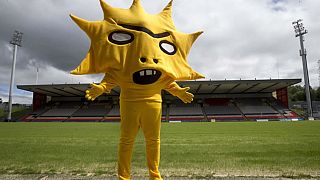 Sports teams' mascots normally provide plenty of fun for the crowds, warming them up before the game begins, and providing half-time antics to keep the atmosphere bubbling.
Sometimes they are a springboard to greater things, such as the remarkable life lived by Neil Baldwin , or Stuart Drummond, once H'Angus the Monkey for Hartlepool Town before becoming the town's Mayor.
Sometimes they become a focal point for bitter sporting rivalry that can erupt into touchline punch-ups, although there is often the suspicion that it's all part of the show.
Now, however, the decorously-named Scottish football club Partick Thistle have stunned supporters and neutrals alike with the design of their new mascot, designed by a Turner-prize nominated artist.
Until now America has been the home of some of the weirder and downright scary mascots , but Partick may now have trumped them all with their new figurehead, Kingsley created to celebrate the club's new minimum two-year sponsorship deal with California-based Kingsford Capital.
Kingsford's manager Mike Wilkins is a commissioner of the Smithsonian American Art Museum in Washington DC and a personal friend of Glasgow-based artist David Shrigley, who came up with the design some have said looks as if Roger Hargreaves drew Mr. Sneeze after a road rage incident.
Kingsley has predictably gone viral, dividing opinion and sparking several memes riffing on popular culture icons, with several people wondering if, instead of pestering to have their photo taken alongside Kingsley, many children will want to run a mile.
Shrigley has also designed a logo featuring Kingsley which for some inexplicable reason appears to have a typo black-markered out included in the design, and which will feature on the club's kit.
Still, it could have been worse. The club could have opted to recreate the Mel Gibson "Braveheart" character. Now that would have been scary…