Jack is Back: DSK makes a cryptic debut on Twitter
Comments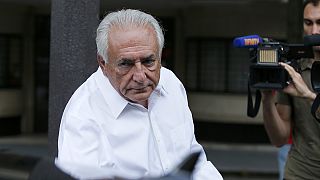 Former IMF chief Dominique Strauss-Kahn has captivated the French public with a cryptic debut on Twitter just ten days after he was acquitted of pimping charges in Lille.
Posting 'Jack is Back', the jury is out on who exactly is Jack and whether it signalled a comeback on the political scene.
Twitter users hazarded a few guesses:
From Jack Bauer in TV series 24, who is back to save the world from an economic catastrophe.
@dstrausskahn 24hchrono pour sauver le monde Jack d'une débacle financière !

— Jéro° ♔ (@mathieukeny75) June 21, 2015
To Jack Nicholson's character in Stanley Kubrick's 'The Shining', perhaps referencing the iconic scene 'all work and no play makes Jack a dull boy'.
Jack is back. #DSK#CroisonsLespic.twitter.com/yG7NZCZuAO

— GuillaumeTC (@GuillaumeTC) June 22, 2015
French newspaper Le Figaro says that 'Jack' could refer to Leonardo di Caprio's character in Titanic, for a sequel in 2016 since his career has been drowning for the last four years.
His presidential ambitions came to a crushing end in 2011 when he was arrested in a New York Sofitel and accused of sexually assaulting a maid, which was followed by the pimping allegations at the Carlton Hotel.
Although some have responded 'hit the road Jack', he has already managed to rack up 37 thousand followers in just 24 hours. Among the five Twitter accounts he follows are economists and Nobel laureates Paul Krugman and Joseph E Stiglitz.