EU takes aim at Mediterranean migrant traffickers
Comments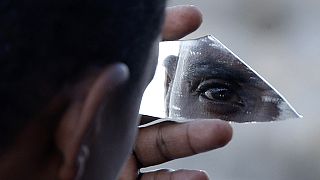 A naval force against migrant traffickers in the Mediterranean has been forged by the 28-nation European Union. Called EU NAVFOR Med, it aims to break up people smuggling networks.
EU High Representative Federica Mogherini announced the launch, approved at a joint meeting of foreign and defence ministers in Brussels:
"Let me be very clear: the targets are not the migrants, the targets are those who are making money on their lives and too often on their deaths. It is part of our effort to save lives."
The Common Security and Defence policy operation EU NAVFOR Med, headquartered in Rome, includes five ships, two submarines, three planes, three helicopters and two drones, with around one thousand personnel and just under 12 million euros to cover the first 12 months.
EU NAVFOR has already seen action against pirates off Somalia, but the absence of a UN Security Council resolution authorising the use of force in Libyan territorial waters limits what can be done. Civil war-torn Libya at the moment has two competing governments. The EU needs to coordinate with all Libyan partners.
It hopes to see a national unity government emerge and agree to EU NAVFOR working off Libya in the southern central Mediterranean — phase one: surveillance; phase two: search and seizure; phase three: disposal of vessels and related assets.
The chaos in Libya means a boom for the traffickers. They have hundreds of thousands of desperate customers — Libyans and migrants from sub-Saharan Africa — who want to pay for the dangerous, unguaranteed crossing.
In April, nearly 900 migrants trying to reach Europe drowned when the fishing boat they were crammed aboard sank between the Libyan coast and the Italian island of Lampedusa. Then the EU leaders finally agreed to more vigorous action on trafficking, to bolster search and rescue Operation Triton.
The International Organisation for Migration says more than 100,000 migrants have crossed so far this year, and almost 2,000 have died trying.
The EU naval force is to fight trafficking, but the bloc's members are still at odds over a proposed easing of the pressure of arrivals in the Mediterranean countries by redistributing asylum-seekers according to quotas.