Venezuela: protesters demand release of political prisoners
Comments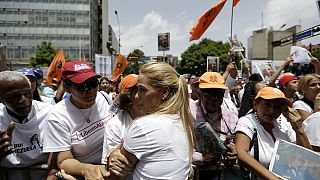 Around 400 protesters rallied in Venezuela's capital Caracas on Saturday demanding the release of political prisoners.
Many of those jailed have been on hunger strike for the past few weeks.
Addressing supporters, one woman demanded their freedom including her husband, Opposition Leader Leopoldo Lopez.
The 44-year-old was accused last year of stirring up violence during anti-government rallies, which killed more than 40 people.