Pope prays before Shroud of Turin during northern Italy visit
Comments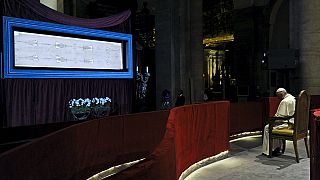 The mistreatment of migrants escaping war and injustice "makes one cry."
The words of Pope Francis, as he visits the Italian city of Turin.
He has also prayed in front of an icon which some Christians believe is Jesus' burial cloth.
The Pope made reference to the Shroud of Turin as he addressed a thousands-strong mass.
"The shroud should spur people to reflect not only on the face and the broken body of Jesus, but at the same time, on the face of every suffering and unjustly persecuted person," said Francis.
The Church has not taken an official position on the Shroud, saying the mysterious cloth is at least a powerful reminder of Jesus' suffering.
It is usually kept locked out of sight. This is only the third time it has been on display in 17 years.
Francis has also spoken to workers and the unemployed during his visit and urged help for those experiencing poverty.