Stowaway dies after 'falling from plane onto London roof'
Comments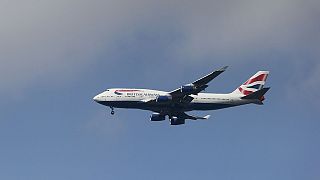 A man who is thought to have been clinging to the underside of a plane died after falling as it came into land at London's Heathrow Airport, British media have reported.
The stowaway, who is believed to have been clinging onto a British Airways (BA) plane arriving from South Africa, was found on an office roof in Richmond on Thursday (June 18) morning.
An hour earlier another man was found unconscious in the undercarriage of a BA plane after it landed at Heathrow from Johannesburg. The man, believed to be aged 24, appears to have miraculously survived the 12,800 kilometre-trip from South Africa. He is in a critical condition in hospital.
London's Metropolitan Police said it is investigating whether there is a link between the two cases.
It said the death in Richmond is being treated as unexplained.
The force added in a statement: "The body is so far unidentified and enquiries are ongoing into this and how long it had been at the scene. No next of kin have yet been informed."
The body was found on the rooftop of internet firm notonthehighstreet.com in Kew Road, Richmond.
A statement from the company given to local newspaper Richmond and Twickenham Times said "early indications were this was an airline stowaway".