Swiss waves red flag over Venezuelan golf balls
Comments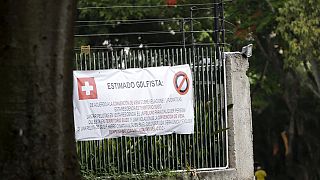 Golf balls lobbed from Venezuela and landing in Switzerland will be considered an international violation.
The Swiss ambassador has raised eyebrows in the Venezuelan capital, warning golfers at the Caracas Country Club that they will be held responsible for any injury or death caused by stray balls to anyone in the diplomat's residence, which is considered Swiss territory.
When Reuters news agency approached Ambassador Sabine Ulmann about the warning banner citing the Geneva Convention on the residential fence near the third hole, her response was 'no comment'.
The Venezuelan Federation of Golf called the sign a "strange overreaction."
The private club in one of the richest areas in the heart of Caracas was long the object of passionate debate over privilege and elitism in the Bolivarian Republic of Venezuela under the late revolutionary President Hugo Chavez.
Article 30 of the 1961 Vienna Convention on Diplomatic Relations states: "The private residence of a diplomatic agent shall enjoy the same inviolability and protection as the premises of the mission."
The opulent Club has been around since 1918. The golf grounds were laid out in the 1920s.