Italian police smash a major international mafia drugs ring
Comments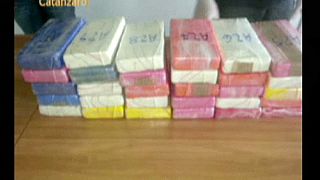 Italian police have broken an international mafia drug trafficking ring , seizing more than four tons of pure cocaine worth one billion euros.
Dozens of people were arrested in the operation which was aid by US and Spanish drug intelligence .
The narcotics are said to have links to Colombia's leftist guerrilla FARC rebels.
The US side of the investigation, named "angry pirate" was also conducted in Brazil, Argentina, Colombia and other central America countries.
At one point 725 kilograms of cocaine were seized at sea near the Canary Islands while being transported on a sailing boat.