Greeks protest against Grexit, day after anti-austerity rally
Comments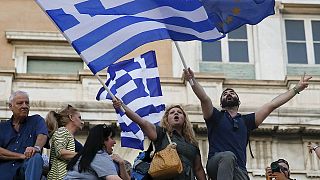 A day after an anti-austerity rally in Athens, Greeks are back in the streets this time with a rival demonstration under the slogan "We are Staying in Europe".
In a recent opinion poll, 7 out of 10 Greeks want to keep the euro at all costs.
Greek People Against #Grexit while Minister in #Eurogroup#MenoumeEvropipic.twitter.com/RvwfUUD1Ut

— Elias Patlakas (@eliasPatl) June 18, 2015
Same time, Same Place, Different Demo
Gathering outside Parliament protesters are hoping to send a message to European finance ministers who are holding a crisis meeting in Luxembourg in the hopes of sealing a deal for Greece to avoid a default and a potential eurozone exit.
German newspaper Die Zeit is reporting that the eurozone is proposing an extension to Greece's current bailout until the end of the year, without the participation of the IMF.
It reported that Greece would receive €10bn of cash to repay the IMF and ECB and is being billed as a final offer to avoid bankruptcy. But its not clear what conditions Athens would have to agree to.
The stakes are high, if no deal is reached Greece will run out of money by the end of the month and risk a Grexit.