Protesters slam Hong Kong's electoral reform debate as a sham
Comments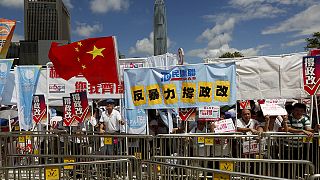 Until Friday (June 19) Hong Kong's Legislative Council is debating the political reforms that will shape the next elections. In the lead-up to the vote, the Legco building is the scene of street theatre; rival demonstrations by pro-democracy campaigners, and pro-government counter-demonstrators.
Earlier in 2015 the former group brought the centre of the city to a standstill with protests against China's policy of picking candidates for Hong Kong's elections.
"There is no such thing as real or fake universal suffrage. We support the National People's Congress Standing Committee's decision," said an older man, supportive of Beijing's policies.
"I know that this government proposal is a lie. There is no chance that we will be able to vote for who we really want for our Chief Executive. So that is why we have to be against this voting proposal," said a young female pro-democracy supporter.
Fake ballot boxes were paraded outside to condemn China's plans to replace a committee-nominated chief executive with a directly-elected one, but only from a list of Chinese-approved candidates. It's a reform the pro-democracy camp says is no reform at all. The police are already out in force to step in at the first sign of trouble.