Michelle Obama promotes girls' education initiative
Comments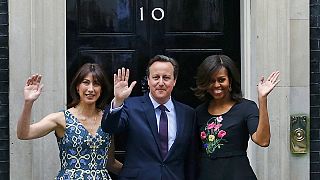 America's First Lady, Michelle Obama met Prime Minister David Cameron and his wife during a visit to the UK promoting her "Let Girls Learn" initiative.
The joint British US programme aims to invest nearly $200 million supporting girls' education in countries affected by conflict.
It hopes to reduce the number of girls not in school and there by improve their financial security , health and independence.
Michelle Obama also met Queen Elizabeth's grandson Prince Harry to discuss support for war veterans and their families.