Tiger kills man after escaping Tbilisi Zoo during floods
Comments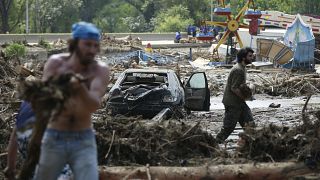 A tiger has killed a man after escaping from a zoo during floods in Tbilisi at the weekend, it's emerged.
Georgia's interior ministry confirmed the death on Wednesday (June 17) morning.
The man was killed in the city centre, according to Nino Giorgobiani, spokeswoman for the ministry.
The tiger was later shot and killed.
Tigers, lions, bears, wolves and a hippopotamus were among animals to flee the zoo after the floods, which had killed more than a dozen and left 20 still missing.
The floods were caused by heavy rains that caused the River Vere to burst its banks.
Meanwhile, reports emerged of a penguin from the zoo being found on Georgia's border with Azerbaijan, around 60 kilometres away.