'Father' of Turkish politics, Suleyman Demirel, dies aged 90
Comments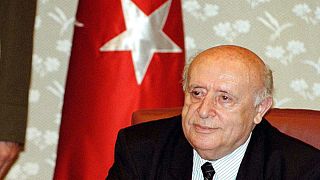 Former Prime Minister of Turkey, Suleyman Demirel, has died at the age of 90.
Yesterday is yesterday, today is today.
During a career spanning almost half a century, he served as the country's premier seven times, later becoming its president from 1993 to 2000.
He dominated Turkish politics over decades of violence and economic stagnation and even made a comeback after military rule.
The leader of the Justice Party between 1964 and 1990, he and a number of other politicians were banned from politics following a military coup in 1980.
Demirel was twice overthrown by the army and claimed he would never resist a military takeover.
The 'Father' of Turkish politics
He was publicly recognised as the 'Father' of Turkish politics, known for making statements such as "Yesterday is yesterday, today is today," when referring to contradicting things he'd said at different times during his career.
Demirel died early on Wednesday, June 17, in an Ankara hospital, officials say. Reports suggest he had been treated for a respiratory tract infection.
Tributes
#Turkey's 9th President Suleyman #Demirel passes away. Will always be remembered. May his soul rest in peace. pic.twitter.com/pEFkcayg9i

— Süleyman Gökçe (@_sgokce) June 17, 2015
Former Turkish prime minister, president Suleyman Demirel dies at 90: http://t.co/RCdN26JV30pic.twitter.com/1cnkjsii3F

— SpeedReads (@SpeedReads) June 17, 2015
Ex-#Turkey president, PM Suleyman Demirel dies aged 90 Read here: http://t.co/nIhQtHx4qkpic.twitter.com/mb8WxFMZ9o

— Khaleej Times (@khaleejtimes) June 17, 2015
Süleyman Demirel, first Turkish politician who took a selfie with his followers passed away early this morning, RIP pic.twitter.com/3kXyb66wqL

— English Master (@IngilizceHocasi) June 17, 2015