Yemen's Old City: UNESCO site targeted in battle for Sana'a
Comments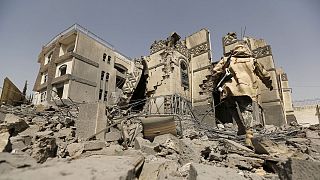 The Yemeni capital's Old City is the latest area to be targeted in the battle between Houthi rebels and pro-government forces.
Dating back more than 2,500 years, the UNESCO world heritage site has been hit by Saudi-led air strikes, even as UN-brokered peace talks begin in Geneva.
Abdulla Kalala lost a relative in the attack on Sana'a's Old City. He suggested the air strikes in the area were futile.
"If they are searching for scud missiles they can go to the border of the military site, not to old Sana'a, the history of Yemen."
Adding to the destruction, medical officials say misfired Houthi missiles have hit a number of civilians.
The UN says the health care system is on the verge of collapse, an opinion Sana'a hospital director Dr Nasir Amid al-Qadasi seemed to share.
"We are in need of basic medicines in the form of emergency drugs and requirements. As you know, this is the second biggest hospital and we are suffering," he said.
The Houthis seized the capital Sana'a in 2014. A Saudi-led coalition began air strikes against them in March 2015.
Riyadh views the Houthis as a proxy for its arch rival, Iran. The rebels deny receiving weapons or funding from Tehran.