Wrecks turn up diving for archeology in the Danube
Comments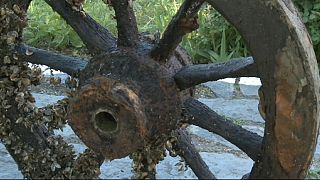 Historic treasures, ripe for discovery, are lying within easy reach for divers at the bottom of long-undisturbed waterways.
We found three of them, one with 100 super heavy cannon balls, each weighing nearly 70 kilos.
Romanian scuba professionals Iulian Rusu and Pascale Roibu have revealed three shipwrecks at around ten metres' depth where the longest river of Central Europe, the Danube, flows into the Black Sea.
Just a few kilometres from the port of Sulina, the easternmost point of Romania,
on the trade route between the grain growing regions of Europe that fed the Ottoman Empire, Rusu and Roibu's several years of hunting have paid off.
The largest vessel, 60 meters long, appears to be a warship.
Diver Iulian Rusu said: "We found reference points that appeared in historic documents that we told ourselves were the key to finding old wrecks. Two weeks ago, we found three of them. One had these super heavy cannon balls, a hundred of them, each weighing nearly 70 kilos, and cannon wheels, so maybe the cannons are around nearby."
Diver Pascale Roibu said: "We figure that the vessels went down in the late 1700s. What helped us the most was identifying a warship that used black powder munitions. This kind was used during the Napoleonic wars. Later, in the Crimean War, they were already using a different sort."
Research in libraries and old archives suggests to Rusu and Roibu that the Sulina delta might hide more than 100 ships, such as those of the British and French navies during tumultuous times.
The local museum in Sulina is housed in the Old Lighthouse, built by the Ottomans in 1870. The authorities are participating in a detailed evaluation of the pieces raised from the depths.
This is not the two Romanians' first discovery. They have also turned up three German pontoon planes that crashed in World War II in lakes near the Black Sea.