UN pushes hard for Ramadan ceasefire in Yemen during tough talks in Geneva
Comments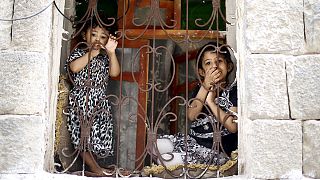 Yemen's warring parties are in discussion over the terms and conditions of a possible one-month ceasefire.
The sides are attending UN brokered peace talks in Geneva.
UN Secretary-General Ban Ki-moon urged all sides to mark Ramadan with a halt to the violence.
The talks are far from easy.
Representatives from the Houthi rebel group have so far refused to meet with members from the exiled government of President Abd Rabbu Mansour Hadi.
Hadi and his government are currently in Saudi Arabia.
The Saudi's back a return to power for Hadi and have engaged in an air campaign to oust the rebels from government territory.
More that 2,500 people have been killed in the three months of airstrikes and hundreds of thousands have fled their homes.
The humanitarian situation is critical with dire shortages of food, fuel and medicine due to a blockade of the country.