Tsipras says austerity is 'humiliating for our people' as Greek debt talks remain in limbo
Comments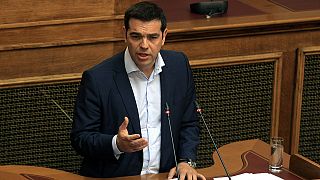 Greek Prime Minister Alexis Tsipras has delivered a biting speech to his Syriza party MPs saying the European Central Bank is attempting to force his country into a financial vice.
Tsipras was speaking as the clock ticks down on a €1.5bn debt repayment to the IMF, due by the end of the month:"It is time for Europe to discuss seriously, not only the future of Greece, but the future of Europe as an entity. Do they really want to force a country and its people into humiliation and poverty or do they wish to find a common ground and open the way to consolidate democracy and solidarity across Europe."
Despite the stalled negotiations and the insecurity it spawns Tsipras did say that there are positive forces within Europe that are working toward a fairer solution.
Our correspondent Stamatis Giannisis is in the Greek capital:
"As time is running out for Greece, Alexis Tsipras is under immense pressure from both the country's lenders and his far left MPs, since any agreement between the Athens government and its European partners will have to get the seal of approval from the Greek parliament first."
The pressure Greece is under is intense by the end of June Athens must find €6.74bn, in July €5.95bn and in August €4.38bn.