Train and truck in fatal collision in El Fhas, Tunisia
Comments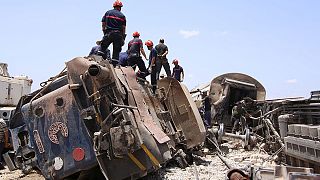 A passenger train and a truck have been involved in a fatal collision
in the Tunisian town of El Fahs some 60 kilometers from the capital Tunis.
UPDATE 2: 18 dead, 98 injured in #Tunisia train crash http://t.co/isjv8077Mtpic.twitter.com/26XEM7Lcot

— Ahram Online (@ahramonline) June 16, 2015
Authorities say as least 17 people have been killed with more than 70 injured.
Witnesses claim that people are still trapped under the overturned carriage.
Police say the truck driver survived and is being questioned.