Hollande visits Algeria for talks on fighting terrorism
Comments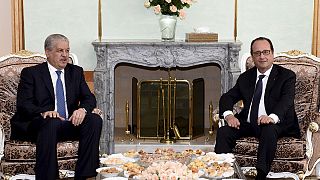 French President Francois Hollande visited Algeria on Monday for talks on security issues.
Hollande called the fight against terrorism a "common battle".
His trip comes after Libya's internationally recognised government said the jihadist mastermind of the 2013 siege of an Algerian gas plant in which 38 hostages died had been killed in a US air strike.
The former French colony shares borders with both chaotic Libya and and with Mali, where France intervened in 2013 to rout al-Qaeda-linked militants controlling the north.
Mutual concern over rampant jihadism in North Africa has brought the former foes closer together in recent years.